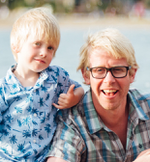 Posts: 20
Joined: Dec. 6, 2008
Posted by: Ddean

If I didnt end up with my 29+ forward geo Naked, I was getting an Arcturian. Big rubber on big wheels on a steel hardtail with modern geo, so much to love.

That combo has surprised me a lot over the 4 months Ive had it. On the undulating, back and forth, techy jank that I love to ride - its awesome. Massive grip with 14 psi and cushcore. Great feedback through the pedals. My Naked has made me a better rider - Im working the bike A LOT more. On the bars much more. Banking the bike more. The hardtail has made my stance much more active and dynamic. After riding it 90% of the time this summer I find myself with a mechanical keeping the hardtail in the garage for a bit, so the Slayer is back out in full force. MY GOD.

Once I got settled riding the hardtail it would consistently surprise me with its abilities. I was shocked at how well it shredded janky stuff.

Turns out it wasnt the bike as much as I thought it was; it was how the hardtail forced me to ride.

It sure is nice to have two awesome and different bikes. Moreso than how cool and awesome it is in itself, one of the things I like most about my Naked is that it has forced me to become a better rider. Its about more than choosing better lines - for me it has forced me to have a more dynamic stance and be more active on the bars.
You perfectly describe how to feels to ride a good hardtail. This also makes me miss mine terribly.
I moved to a big dumb enduro bike this summer (Kona Process 153) and while it's totally amazing, I sure do see the difference in how I ride now vs. how I rode before on my steel steed.