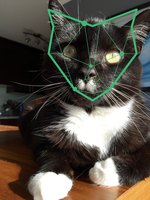 Posts: 816
Joined: Jan. 31, 2005
Posted by: RAHrider

Posted by: craw

Posted by: RAHrider

Posted by: craw

So here is V2. Slightly adjusted geometry and bigger tubes. It took a second try to get it perfect.

What dimensions did you go with (and how tall are you) out of interest?

I'm 6'6".

Reach: 520, sta: 76', hta: 63', cs: 450, drop: 55, head tube: 150. Wheelbase is a bit over 1300. Plus vintage 180mm XTR cranks. So far it's just right. I since dropped the stem and still feel like I'm sitting a bit high with that 35mm rise bar so I'm due an experiment around that. The whole bike feels solid and torsionally stable, which is impressive for ti on a bike this long. It really is true that good fit/geometry>suspension.

Your bike is so big I thought it was 27.5's at first glance. It's awesome that for the first time you are lowering your bars - I know the feeling. Even on an XL at just 6'2" my bar is 20mm rise and my stem is 15mm above the headset and I still have a 5-7 cm drop to the bars from my saddle. I can't imagine my saddle 4" higher than it is already.
Who said it was the first time I'm lowering my bars? It's pretty clear my seat is all the way down in this photo.
Last edited by:
craw
on May 25, 2020, 6:01 p.m., edited 1 time in total.