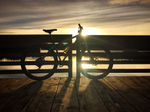 Posts: 26
Joined: March 8, 2017
Posted by: heathen

Posted by: michel77

Posted by: heathen

Still rocling my Chromag Wideangle for the 2020 season. 160mm Pike, 36mm rims with 2.6 Minion DHF.  Super fun bike. I just rode it and left my fully at home and I have really picked up the pace. So fun to push the limits.

That's a nice rig, what year is that?  Looks like pretty modern geo with the steep seat tube angle?

2018 Wideangle. Modern geo but I wish the HT angle was more slack.
Angleset would work on that to slacken the front end?