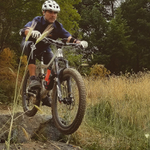 Posts: 1534
Joined: Sept. 10, 2012
Posted by: RAHrider

I think our partners need to ride together. I made my LBS include a two week loan of their shock wiz for each new bike I purchased for her there. Trying to get her to tell me if the suspension is better or worse is kind of like me trying to tell my wife which fabric colour is better for our new chairs - somewhere between hopeless and useless.
My GF would be happy to know another lady that rides locally. She's met a couple ladies so far, but she had a social group of 15-20 woman shredders in Victoria so there was always someone who was up for a ride. She hasn't figured that out up here yet....although with COVID making new friends is a bit harder than normal. 
I have to say though I do get jealous of how my GF can ride a bike for 3 years and have no interest in changing anything other than worn out parts. Ignorance can be bliss.