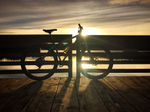 Posts: 69
Joined: March 8, 2017
Halfway into February and no hardtail thread yet? Blasphemy!
I'll kick it off then, still on the old Chromag Surface, no boost or other nonsense, clean and simple :)  It had a bit of a makeover since 2019 marked the year I finally got a full suspension in the form of a Transition Smuggler and I initially used most of my Chromag parts.  Slowly built this back up over the winter, somewhat of a buy/sell budget build but came out pretty well and stoked to have it back together!
I went a little lighter on the build since this will now mostly be used for longer, mellower training rides.  Changed the Fox36 - 150mm up front to a MRP Ribbon Air set to 130mm for now.  Probably going with some lighter, faster tires for spring and summer as well, it'll be more of a XC rig for now albeit a capable one.  Might even try some bikepacking?!
Hope we get this thread rolling again, always fun to see the hardtails out there!
Cheers!