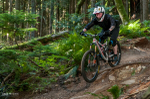 Posts: 2358
Joined: Sept. 5, 2012
Posted by: D_C_

I picked up UFO's Devinci Django 29 (or Devinci Troy 111, as I've been calling it) and just built it up with parts from my hardtail. I debated long and hard about whether I was ready to move on from the Rootdown BA and figured I'd give it a go. They say steel hardtail frames are compliant, but sometimes you want just a bit more of that. My other bike is a Norco Range 29 with 170 mm fork, so I'm hoping there won't be too much overlap. I may drop down the fork's travel on this one.

The build includes a Pike set at 150 with the Debonair shaft (one of the better $50 upgrades I've done), Arc 27 rims with Hope rear hub, X Fusion Manic 150 post, Race Face Atlas cockpit, Shimano XTR shifter, SLX derailleur, XT 11-46 cassette, Turbine cranks with Enduro BB92 to 30mm bottom bracket, XT M8000 brakes.

The frame itself is about 8.2 lbs and the bike as currently built is just under 33 lbs! Yikes! But I am running ~1000 g tires front and back and a CushCore in the rear (necessary on the hardtail), so I could probably drop a couple pounds there.
sweet ride, similar to mine.