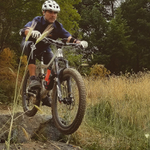 Posts: 1451
Joined: Sept. 10, 2012
That bike looks flawless Vik, nicely done. How's it ride? I've been seeing more and more Pivot lately, but haven't heard how they ride.
I'm still getting her setup. A ride review will be a month+ away before I can do one justice.
Just got the cockpit dialled and need to bike into town to get a couple things for the GF's M6.
There are quite a few Mach 6 reviews online and they are pretty consistent = efficient climber and capable on the downs. This iteration of DW-link is quite plush.
I'm coming off 5yrs+ on a SC Nomad @ 35lbs which was my do-everything-bike except for pavement and bike camping.
My goal with the Mach 6 is to have a lighter more efficient bike so I am fresher at the end of 4-5hrs+ rides and get a more playful bike.
I dropped over 8lbs going to the Mach 6 with a burly build [160mm x 35mm fork, 203/180 rotors, carbon wheels, etc].
I'm a fan of bigger wheels for better roll through in the tech. I've experimented with my Nomad and even going from normal to tall 26er tires makes a huge difference. So I am stoked to have taller and lighter wheels.
The M6 has a considerably shorter CS, same WB and slacker HT and I'm further back on it relative to my Nomad making getting the front wheel up easier. I ride lots of tight trails will rocks and drops so that should be a lot of fun.
The M6 is 155mm/160mm travel vs. the Nomad's 160mm/160mm so pretty much equivalent.
I've never owned a carbon bike part before so that's quite a change.
Anyways I'm looking forward to getting to know the new bike as well as the Nomad and riding it for many years. :heart::heart::heart: