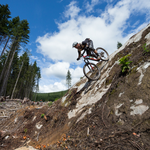 Posts: 2266
Joined: Nov. 22, 2002
How skinny are you?
A few I've had good luck with, that might match your needs:
Giro Truant. Here's my review: https://nsmb.com/articles/giro-head-toe/
Specialized - pretty much all of their shorts (Atlas, Enduro, and Demo) will fit the bill. Their stuff fits well and is quite durable.
I would recommend the Race Face Stage shorts but they'll be similar to the Triggers that you already have and feel are too baggy.
Sombrio are not gone - they were purchased by Dorel, the same company that owns Sugoi, as well as Cannondale, GT, and Mongoose.