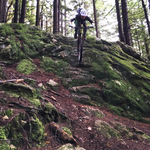 Posts: 402
Joined: July 8, 2005
i'd carry 3 HIDs on the helmet before putting anything on the handlebars … dont believe me then do your own tests … we have tried it all …
I've done the tests and concluded that I like bar mounts. They cast shadows that you can see which makes drops and rocks stand out better. So I've got 2 bar mounts with one flood and one spot. I also have a helmet mount as well.
Mine are all LED lights which are probably equivalent to a 15ish halogen. No they are not as bright as HID's, but they don't require ballasts to kick them off and have much longer lifespans. Also the power consumption is lower so you can run smaller capacity batteries and still get 3-4 hours of run time at full power (or 7ish at lower settings).
The new Lupine LED based light (Wilma?) is supposedly extremely bright, but carries an extremely high price tag (~$1000!!!!). A couple friends are getting sets so it will be interesting to see how they work.
Back to the original post, a 10W halogen is just adequate. Moving up to 15W is probably a good investment. BLT makes some good lights at decent prices. Start off with one set (helmet mount). If you get hooked on night riding then you can upgrade with a second one for a bar mount.
I carry one of those small LED headlamps with me as a emergency back-up which I will also use to climb with if there isn't enough moonlight. That way you're not using your main light and killing run time. And if your lights do die for some reason, you'll still be able to get down the hill.
Dave K (Oops. didn't notice that I was logged in as mudhoney. Oh well)