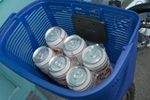 Posts: 0
Joined: Sept. 20, 2006
Here you go:
Just a u-clamp with a steel bar with a flat machined surface for the nuts to snug up to. The rack gets cinched down so you're not fighting the whole weight of the rack and bikes if cinching up.
One custom thing I asked for to further prevent movement is eliminate the pivoting mechanism in my rack. Can't fold it down but it hasn't bothered me since I've had it. Had it done to my previous rack as well.
In the near future, I will get a swing out carrier for both my tire and rack. The tire is too heavy for the door mount and I'm planning a camping kitchen out the back of the truck so I will need access without the rack and bikes in the way, even it it did pivot down to the ground.