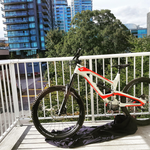 Posts: 10
Joined: June 12, 2018
I am very excited to receive my 2018 YT Capra AL Comp. I hope it shows up soon, here is the story so far:
I read lots of bike reviews and watched a lot of Youtube videos about the YT Capra and it seemed like a great bike for me. Price is good, components are great and the brand seems cool. Plus if its good enough for Tippie and Gwin......
So I decided on the Capra AL Comp (I crash too often for carbon, and the build kit is great) sold my Cannondale Jekyll and went to the YT website to make an account.
Almost as soon as my account was finished, I received an email from JM from YT Canada saying hi, and offering his help for any questions I might have. I thought this was pretty cool, and I did have a few questions I wanted answered. JM confirmed my sizing (6'1" = XL Capra frame) and although the YT website said they were sold out until June 6th JM told me that there was one XL Capra Al Comp left that I could order. I thought it was meant to be and I went ahead with the order. I placed the order on May 29th 2018 and (now without a bike to ride!) prepared myself for the long wait to get my new Capra. Payment on the YT website was taken immediately and I received my order confirmation shortly after. So far, so good.
I knew I wouldn't hear anything until June 6th, as the bikes were sold out and YT Canada wouldn't get stock until then, but I still checked the YT website everyday to see if there had been any progress, and every time I checked it, it said "order has not been processed yet". Then eventually, June 6th rolled around and I rushed to the YT website excited to see the "Your Order has Shipped!" notification, and to start stalking my new bike using the tracking information YT says it provides.
But, alas, "your order has not been processed yet". 
Next day? "your order has not been processed yet". 
Next day?!: "your order has not been processed yet". 
Bummer.
So I called YT Canada at their office in Kelowna. No Answer. The outgoing voicemail message said that the YT Canada staff were at a trade show in Quebec and would return on the 7th of June. This was a bit confusing as it was already the 8th of June, but I figured they were busy and would call me back soon. I left a message with my order number and asked them to call me back with an ETA on my bike.
I didn't get any communication from JM at YT Canada until June 11th, when he sent me an email reply with some bad news. My Capra somehow wasn't included in the June 6th shipment from Taiwan (even though I thought he said there was one left in stock..?) anyway he offered me 2 options:
Option 1: He would try and get my bike airmailed from Taiwan. This would take at least another 10 days once the shipping was confirmed, plus a few days for customs ect.
Option 2: He would have my order refunded.
Although this was a pretty disappointing turn of events, I told JM to please ship my Capra via airmail and let me know as soon as it was shipped and to provide me with tracking info. He replied back pretty quickly saying he had an XXL Capra in stock if I would rather have that right away, but I said I wanted to wait for the XL.
Today is June 14th, 2018. I haven't heard from JM in 3 days*, and I don't know if my Capra has been shipped yet, or when I can expect it. The YT website still says "your order has not been processed yet". 
Pretty disappointing so far; I understand things happen and I am ok to wait a while longer for a great bike, but it is the lack of communication that is a let-down. It sounds like JM is the only YT Canada rep and must be crazy busy, so I'm going to stop bugging him for a while and see what happens.
I'm probably just being super impatient and I'm definitely driving the guys at YT nuts with my emails. I'm sure I'll hear something soon.
*I just got an email from JM saying there would be no update until the bike arrived in Canada and cleared customs.