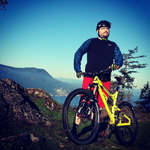 Posts: 9197
Joined: Nov. 19, 2002
Posted by: XXX_er

yeah except when you bought a YT you ain't trying to buy a 3$ mug of coffee, you bought a cheap bike on the internet which was cheaper cuz there isnt a shop to walk into, so now you walk into buddies shop but he doesn't take your money so you ain't a customer yet so what he is saying is fuck you they don't want you for a customer

I duno if they have to serve you I suppose you could out them on the internet or wait till the fall when they ain't so busy and maybe they will want the business

or maybe starbucks will fix it?
Any shop has the right to refuse service to anyone they want, but in the age of the Internet you have to be ready for the word to spread. As more and more bike manufacturers go to the online distribution model this will only become more of an issue. Those shops who refuse service may think they are doing great now and can afford to lose a customer or two...but a few years down the line it will come back to bite them in the ass when more service oriented, less elitist shops will do what they won't. Money is money and if you are turning away someone who you can get to pay full pop for a service...that's just bad business. You may see one person turned away, I see the bigger picture....and as a service-oriented business, you should too. Change is inevitable, you either keep up or get left in the dust.