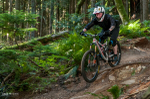 Posts: 2404
Joined: Sept. 5, 2012
my answer would be yes, the more $$ shoes last longer.
my $300 giro shoes still function the same today as tehy did when i bought them in 2012.
i did dh races on them, ride in the winter, ride in the summer. sure they look worn with toe scuffs and some worn sole, but the cleats stay in, the velcro and ratchet straps work.
Every pair of Shimano shoes i've had, going back 20 years or so, the soles peel off.
i've had high end shoes from diadora, specialized and now giro, and they seem to last. the only reason i've had to replace them are :
left them on the roof and drove away ( diadora )
i caught a knot on a log and ripped a gash in the shoe ( specialized ) they still work, however, and the rip has not gotten larger.

YMMV of course.
every pair of clipless shoes I ever owned at one point or another the sole peeled off , even adding glue to a new pair did not increase the life much , since switching to flats I get lots of life , and I ride more .