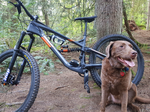 Posts: 84
Joined: March 28, 2012
mouth guards are nothing new to the sport , meet guys in the early 90,s using them to stop from chipping and cracking their teeth .

If MIPs is the real deal why is it only being used in MTB ??? Neck braces are used is tons of sports along with helmets , but from what I have seen MTB is the only sport pushing it .

For me it,s another standard they are forcing upon the sport .
MIPS is now available for dirtbike, street bike, and snow sports helmets. The science is still suspect, but I figure piece of mind is worth it.
As for mouthguards, my dentist is really suggesting I get one, for dental protection as well as concussion protection. Anyone know about that?
"Constant rage: could people f*cking up all the time be to blame?" - The Onion