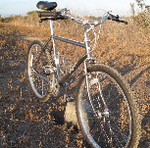 Posts: 1841
Joined: Nov. 8, 2003
When you say straight line traction….you must mean climbing or ecelarating?
Yeah, grabs better on climbs and descents than other semi slicks I've tried. I'm not on the shore though.
I've also run the Slaughter, Rock Razor, and am currently on the Riddler. In the wet there is a lot less control going on with a semi slick, as in none, but like others said you kinda learn to enjoy it.
I think the ideal semi slick has yet to be made. Maxxis has got the casing, weigh and size, but the profile is fucked- makes leaning in vague and sketchy. Slaughter needs to shave weight. Rock Razor is too big and thin feeling. Riddler is right size and has a great profile, but the casing is thin and flimsy, yet heavy, somehow.
Aggressor rear is another option, if you want something fast, but still need to occasionally stop. I've been really impressed with this tire.