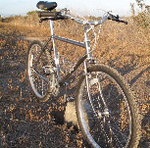 Posts: 1517
Joined: Nov. 8, 2003
Currently happily using a Lyzyne Sport Drive HV, the cheapie plastic model. Inflation time seems fine, filled 2 tires at trailhead couple days ago fast enough no one in group had to wait. Light enough that it's not noticeable in pack. 
Stopped putting pumps on my frame after getting corrosion in a high end Lyzyne and Specialized pump. One Up pump seems well sealed, might be ok. Weighs a shit ton and costs 3 times in comparison to the cheapie plastic Lyzyne and performs basically the same function though.
Co2 cartridges suck to use, besides the waste. You only get one shot at it and then you're walking down the mountain. Slow leak or anything other than a 100% sealed tire and you're fucked. Even with a whole bag of them or a group all carrying them you're still walking at some point. Had to use them for XC racing and triathlon for years, outside of a race setting where I had no choice I just can't see it.