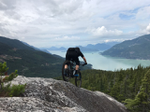 Posts: 96
Joined: Feb. 13, 2018
I'm after all the grip. Don't care about the weight. Reviews seem super duper positive as far as grip goes. But, I'm wondering if these tires will be as hard in the cold as the Magi X2 Wild Enduro was. Perhaps not all Magi X2 rubber is the same?
So, do you have experience with the DH22 and/or DH34 in North Van / Sea to Sky? If so, thoughts? Tires are going on my "big" bike. I get the wire beads, slow rolling, weight, etc. I'm curious about grip, casing feel and braking performance.
And, do these also harden up like crazy in the cold? I'll need new tires in September or October and want something I can run in the cold / slippery season on the Shore through winter.
Not looking for Maxxis recommendations (plenty of experience with those including Maxx grip varieties). Looking specifically for info on the Michelins noted above. Thanks!
Last edited by:
Bushpilot
on Aug. 24, 2021, 1:22 p.m., edited 1 time in total.
Reason:
spellllling