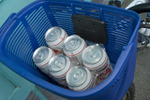 Posts: 7657
Joined: Feb. 15, 2005
I dropped into the North Van outlet on my way through from Courtenay to Abby today and was probably in and out in 25 minutes…and $250! That's like $10 a minute!!! YIKES!
New 510 shoes
climbing harness
biggest eff-off bike lock they sell (it's freakin HUGE - no one's gonna be stealing my bike unless they pack either dynamite or an angle grinder)
copy of Kranked 6
had to leave- my eyes were wandering over to the back-pack area - always dangerous ground…
I swear - if they ever start talking about putting an MEC in the Comox Valley I will lead a protest AGAINST it! I need to eat!!
I have 21,474,850 rep points...
My blog - read it!