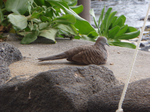 Posts: 978
Joined: Oct. 21, 2004
Hello,
I recently found a Lyrik Soloair in my stocking and reduced the travel to 100mm to better suit my STP. Very nice fork, like a mini-66, although at reduced travel I have to run a higher pressure than is indicated on the fork leg (~100PSI instead of the recommended 55PSI for my weight).
BUUUUUUUUUUUUT when I was doing some research into the travel adjust, I found a website/forum (mighta been pinkbike) that indicated that the all-travel spacers were no longer recommended by Rockshox for the Lyrik. I didn't pay much mind at the time, but now looking at the RS website again, there is no more mention of using the travel spacers in the Lyrik or totem forks.
needless to say, I can't find that website again…
???
anyone know anything about this phenomenon? the RS website doesn't have any sort of customer service # to call, so I'm turning to you, wise NSMB boards. comments are appreciated.
tanks!
Max