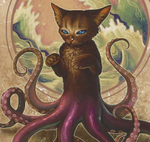 Posts: 1247
Joined: Nov. 8, 2003
I had a beautiful dream last night I was riding Cypress on a...29er. I think I need to buy one.
Would asking about shorter travel (~130mm) wagon wheelers be a total thread derailment?
My test rides this summer taught me that I'm not tall enough to unlock the full potential of a long travel 29, but more importantly, that I would really like to have a shorter travel pedally 29er.
Climbing was just blissful, besides there would be less expectations to compete with the stravasshole friends on the downs.
Last edited by:
Hepcat
on Dec. 19, 2018, 10 a.m., edited 1 time in total.
Reason:
"Hi Crime Stoppers", "Hi Steve!"