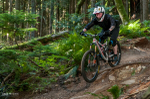 Posts: 2344
Joined: Sept. 5, 2012
Posted by: luckbox

Anybody putting in a decent amount of days on a 29er in the WB park? Looking to ditch the Glory 0 and go full enduro. Commencal Meta 29 seems to be the top choice so far, but can't get one until October and they were fully booked for Crankworx demos right away (and didn't bring mediums).

Seems like there are some deals on Ranges as well. Capra looks like great value obviously, but the water bottle thing actually matters to me. Stumpjumper Evo is intriguing as well.
Stumpy EVO is a low volume run , I looked into them , as they where supposed to be available last month. Looking like Sept now and there is only a few hundred and only one model to choose from. Was told they are testing the market with it , if it sells out they will commit to a carbon design in the future.
I have been toying with a much more aggressive 29er as well . Just not sure what direction to go . The YT Capra and the Commencal Mega 29  have a killer spec bike for 4K or so , yeah it,s aluminum , but I don,t care. My guess is after Interbike the market with be pretty much full of whats to come . And some new decisions and choices will pop up.