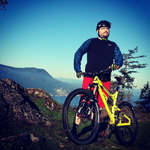 Posts: 9198
Joined: Nov. 19, 2002
Posted by: wee-slurguy

I'm really close to pulling the trigger on a Wreckoning but have heard some shifty stories about (more than usual) cracking frames and customer service. Any one care to comment. Legitimate concern or just keyboard warriors ranting into the interwebs?
I remember them having problems with their first run, but have not heard much since then.