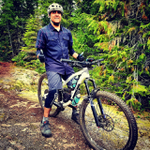 Posts: 849
Joined: Sept. 10, 2012
You can get custom bags made to fit any frame/mounting situation from the slew of small bikepacking bag makers. Not as cheap as an off the shelf bag, but not crazy expensive if a really good fit/use of space matters to you. Ibis are the only folks that make custom bags to fit their frames that I can think of.
I bought a frame bag from Cotic when I bought a hardtail from them thinking it would be nice to have a purpose built bag, but the fit was poor so it ended up being a waste of $$.
Last edited by:
Vikb
on Oct. 1, 2021, 6:44 a.m., edited 1 time in total.