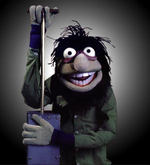 Posts: 402
Joined: Feb. 24, 2017
Posted by: Kenny

Posted by: xy9ine

Posted by: Kenny

Am I the only one that doesn't get this new style of spambot?

pretty sure there's a sentient AI out there that throws these out as part of a testing algorithm to learn about human behavior (inevitably with the aim to conquer and/or enslave us).

Yeah, must be. It's collecting data based on our responses somehow. 

Cast iron pedals for the win!
Little frying pans, for the ultimate bikepacking accessory!