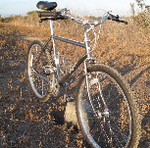 Posts: 2047
Joined: Nov. 8, 2003
Posted by: RAHrider

Anyone on here have much experience with the Rekon? I decided to go for a faster rolling setup on one of my bikes. I have 2.6 rekon on the front and 2.5 aggressor on the back, both with cushcore pro. The sidewall is less supportive on the Rekon than I am used to so I run them at about 4psi higher pressure than I would with a Minion DHF for instance. I find with the small knobs I don't trust the tire leaning over as much. I'm running them on FLOW i30 rims so I believe the tire shape is pretty typical. I haven't taken them to the point of washing out and biting it. Do I just need to trust them fully, like I would a minion or do others find that the tire starts to feel nervous when pushed to your max?
I've gone through 3 of them on the short travel 29, in the 2.4WT size though. 
For the speed they are the grippiest tires I've ever run. Easily the best light weight trail tires I've had experience with. Just made the bike come alive. Noticeably faster and less fatigued uphill, and predictable and able to keep up on the downhills. 
I ran the 2.4's at the same psi I've run in my other tires, 23psi front and 29psi rear (I weigh 190lbs).
The all out grip limits were less than Minions etc, but it hit the limits very predictably. Tire shape is predictable and normal too, not too square or round. I leaned the Rekons just as hard as other Maxxis tires when they were new and sharp. Problem is the wear rates are insane with these tires, so the edges don't stay sharp for very long. I actually preferred the tire on the front a bit more, on the rear I felt like I missed the solid grab of paddles like on a DHR2 style tire, and the knobs were just getting destroyed under hard riding.
Tried mixing and matching with other trail tires, probably the best combo I came up with was a 2.3DHR rear and a 2.4WT Rekon front. Right now I've got probably the second place combo of a Dissector front, which is bit slower but DOES have the all out side knob grip, and a Rekon rear. In the future I don't think I'd run anything but a Dual compound Rekon rear though for the longer life.
Those extra 4 psi you're running has gotta be making a huge difference in handling though eh?