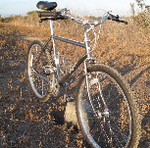 Posts: 1668
Joined: Nov. 8, 2003
Posted by: heathen

....

The Vigilante 2.6 high grip light casing has always interested me. But I have read some odd reviews and I am hesitant to spend/waist money on unknown tires, as I have been burn a few times. Andrew Major loves them.

What are your thoughts on the Vigilante 2.6 for cushion?

Side note mrraulduke just got the Baron Projekt 2.4 and they look awesome. The 2.6 version looks to not have as aggressive side knobs and a more round profile.
I know many like them, but WTB's light casings I've tried have been a bit of a head scratcher. Kind of heavy, yet delicate.
(Not that there's anything wrong with being heavy yet delicate. Mom says I'm just husky yet sensitive).
The thin casing is as thin as any XC casing, with no sidewall protection. Combined with an oddly thick layer of extra rubber under the tread, and side knobs spaced twice as tightly together as other similar tires, it's portly for what it is.
Achieving heavier weight without notable performance gain remarkable. It's like a max/min design...
Last edited by:
Hepcat
on Oct. 27, 2020, 10:26 a.m., edited 1 time in total.