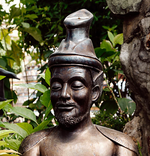 Posts: 60
Joined: Dec. 1, 2008
Posted by: XXX_er

It strikes me that everyone is looking for a tire that is as good as the maxxis
Current trail tires are so close in performance that I couldn't declare any of them as the "best". It comes down to tiny details. Personally I don't use maxxis because their 3c rubber doesn't deal well with temperatures close to freezing.
Posted by: tungsten

Me too.

I bought a MM Addix orange awhile back and was so disappoint when it inflated smaller than my old Trailstar MM. It's too draggy to put on rear w/E13trs on front.

So digging around in tire stash looking for 26" 1.50 road tires and the Presta valve tubes that match them to set up wifes bike on wind trainer, I found a lightly used Butcher/Purgatory combo. Thinking Purg surely better for wet/cold than Pacestar, eh?
If I remember correctly, the old Spec trail rubber was 60a, so a bit more grippy than pacestar but a lot slower as well.
Last edited by:
Timer
on Feb. 23, 2019, 3:58 p.m., edited 1 time in total.