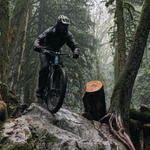 Posts: 8
Joined: Oct. 16, 2020
I'm considering stocking up a pile of the recently discontinued, still-on-a-couple-websites DHRII 26x2.8. Except one thing: I'm light and more cautious than aggressive, and these tires possess the only sidewall I've ever cut open.
In article comments, Andrew Major suggested the Dirt Wizard 26x3.0. It looks good, but it's also 380g heavier than the Minion+. Enough to second guess that idea (though I appreciated the suggestion). It's for the rear wheel of a mini mullet RM Altitude which I would like to keep playful.
Is that really all the big 26" tires?
I do know of the 2.6" Magic Mary but haven't really taken that thought seriously because it only comes in purple compound.