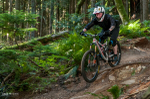 Posts: 2406
Joined: Sept. 5, 2012
My lights showed up yesterday, looking forward to trying them. I went with a 4 cell for the handle bars to give me a bit of a extra time and a 2 cell for the helmet (didn't want to be carrying all that weight).

Question: do most people mount the helmet battery on the back of their helmet or stick it in a pack?
done both but prefer the helmet .