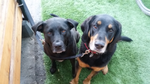 Posts: 983
Joined: Feb. 26, 2015
Going from cheap/intermediate chinese (Magicshine) to expensive chinese versions? If it were me i'd go with something that has better batteries and 'known' build quality. For close to the price you are looking at there (for just the bar light) you could get a Gemini bar and helmet setup.
Have a link for the gemini setup you speak of.
I ride bikes to meet women.... Mostly nurses.