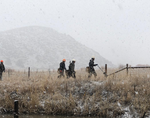 Posts: 31
Joined: Nov. 15, 2020
I seem to recall there being some Helm users here, and maybe some folks with experience on both versions, but haven't been able to find a discussion. I have been riding an original Helm for about 6 months and mostly really like it, but like a lot of people apparently I am barely using the compression dials. Usually just a click or two on HSC and one or none on LSC. I was looking at Cane Creek's factory service options and noticed you can upgrade the damper to the MKII version during the 100 hour service for about 500 bucks, so not cheap but much less than a new fork, and you need to use their service centers for the 100 hour service anyways.
On the one hand I feel like I want more usable range out of the fork and like the idea of upgrading an "old" part. On the other hand I'm happy as is so why spend the money chasing rainbows? 
Oh, and I'm a ~170 pound (77 kg) rider doing general trail riding and modest sized features around the Pacific Northwest. I get my wheels off the ground every ride but not impressively so, if that makes sense.