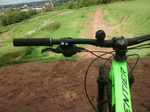 Posts: 41
Joined: June 6, 2017
I guess by now most of you will have seen the new GX Eagle groupset - what do you think?
Will you be upgrading? Or do you think it's just unnecessary (and heavy)?
Personally I'm a fan of the new kit, but I'll be waiting for my current gear to wear out before I look at fitting it.