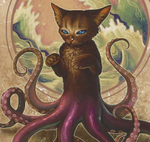 Posts: 1216
Joined: Nov. 8, 2003
I rather like my new DMR Death grips. Super soft race edition, thin. End caps feel like they have a durable plastic plug under the rubber, not worried about it. 
I prefer them over the very good Macaskills they replaced. Grippier and softer.
I'd like to see a face off of the Deathgrips and ODI Flows. Maybe I'll pick up some Flows and spend 5 seconds testing each...
I have disproportionately large ape hands and prefer thinner grips.