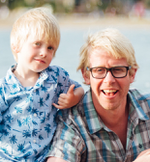 Posts: 44
Joined: Dec. 6, 2008
Posted by: craw

I made a few monster cross mountain bike conversion type road bike things over the years and never really rode them. It always seemed like the worst of both worlds. My gravel bike tries to blend a bunch of positive traits and it must be working because I ride mine as much as my mountain bike. It's got classic 90s mtb geometry at 71/73 but it's got a long road bike head tube and 700c/29" wheels. Also hydraulic discs and moderate 38mm tires since I use it more as a road bike  + than pure gravel. I'm not really trying to push the limit of what I can do on this bike terrain-wise because I have a mountain bike for that. The gravel bike is for tearing around the city, exploring stuff and finding unusual spots on the map.
Agreed. This is why I went the lightweight, quick handling 29er route instead. The King Kahuna in 22" (558mm seat tube) also has a crazy high stack height - 676 mm! - which I've been forever wanting on a XC bike.
Many gravel bikes are turning into what we rode 10 years ago. It's interesting to watch.