Posts: 462
Joined: Nov. 25, 2013
Gametime
For those that have read my previous posts, I have been struggling with getting my test fork – SR Suntour Auron 34 set up just perfect.
Since I'm watching a Blue-Jays game while writing this, I thought I would write this as an interview or maybe a back and forth banter with a play-by-play TV announcer – I dunno, lets see how this turns out:
Gord: "It was a beautiful night in North Vancouver when I realized that I had maxed out both the HSC and LSC on my fork, had it at the max recommended 90 psi and still felt like I was dropping through travel."
Gord: "Before the game, I had had a conversation with Dan (SR Suntour Rep) about my options. He was honest and straightforward with recommendations (unlike other coaches and managers I speak with). He could have said that I could crank up the HSC/LSC and then tell me that I was either too much of a fat-ass or rode "too aggressively" for an AM fork and I should perhaps get a dual-crown or "enduro-up".  Have you had anything similar happen Taz?"
Taz: "I have Gord. I have been using a certain a certain fitness tracker for the past few years. The tracker is to be used when eating, sleeping, working out…but not showering and swimming. I discovered some bubbling below the rubber strap, so I contacted their warranty department. The response was that since I had sweat whilst using my fitness tracker, they could not warranty the unit. This was frustrating since the tracker is designed for fitness…which would imply the presence of sweat"
Gord: "Oh my Taz, that is frustrating. Now what does that have to do with mountain bike forks?"
Taz: "Nothing Gord, I just thought it was a good story indicating how some companies stand behind their products and others play 'fine-print-butthead'".
Gord: "Ok, well back on track, Dan offered to have me send the fork in to Suspension Werx to have a new negative spring installed – his thought was that if I added the larger negative combined with another volume spacer, I would be able to get the required support, but also have the small bump compliance that I desired"
Taz: "Interesting Gord, but you know your way around a workbench, so wouldn't that be a pain in the ass to not only remove the fork, but find time to connect with another shop? Obviously you would have to remove yourself from the starting roster and put yourself on the DL"
Gord: "It was, so Dan indicated that he could send me the required spring, and a link to some videos as to how to make the swap. It was an interesting game-plan that would minimize downtime and allow me to add value back to the team."
Taz: "Well that was a helpful alternative. I can assume that the installation could still be handled by your ham-fistedness"
Gord: "Now Taz, no need to be an arse about it. I may be 0 for whatever with getting the fork set up perfectly, but being a good teammate means supporting me through the challenging times. Yes the videos were simple (http://www.srsuntour-cycling.com/service/tech-videos/), and even without the "perfect" tool, I could get the fork dismantled and make the swap"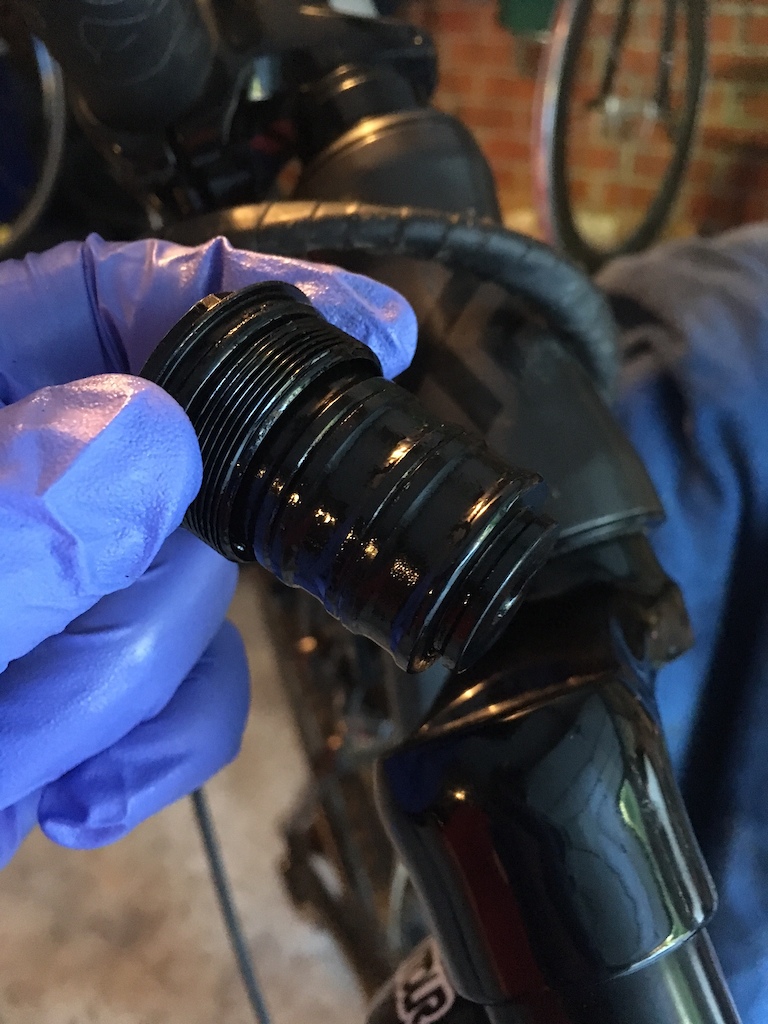 Gord: "I first removed all the air from the fork because dismantling the pressure boundary whist the unit is under-pressure is kind of a bad idea"
Taz: "Hahahaha, I could only imagine the kaboom of parts and oil all over your garage"
Gord: "There is no oil in this fork Taz, so I first removed the top-cap and added a 4th (and final) volume spacer. It was simple as the spacer just clicked into the existing stack of three"
Taz: "I do agree that this style with spacers is so much better than having to add/remove oil from the bath, or trim a fixed spacer to tune the fork progression"
Gord: "So now you decide to agree with me on something…Anyway, the air cap removal, spacer click-in and re-installation was smooth as silk. I then tackled the bottom of the fork. I can sometimes be a little lazy…"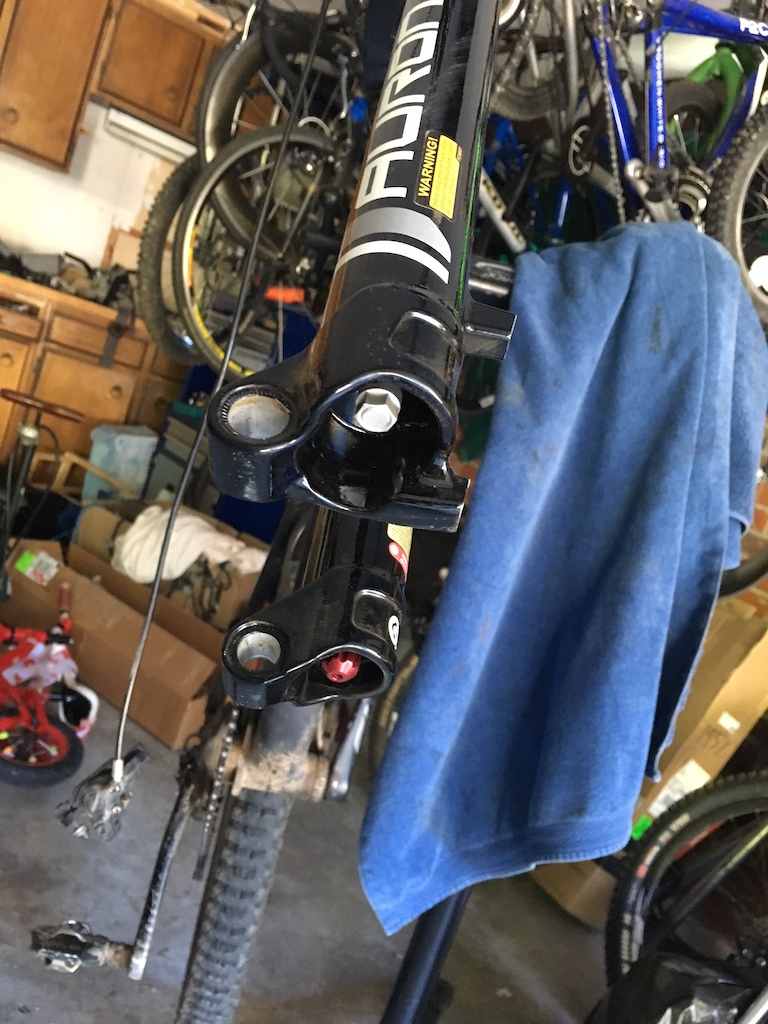 Taz: "Just like a…"
Gord: "Shut-up Taz. Anyway I decided to see if I could make this swap without removing the fork from the bike. I pulled off the rebound cap, removed the o-ring and started to remove the nut. I was a bit surprised to have a pocket of air let go. It made me jump a bit"
Taz: "Wuss…"
Gord: "Sometimes, I just wanna…woooosssaaa…ok so I then moved to the air-side and pulled off the lowers. I immediately noticed that the air-size shaft pulled back into the stanchion a bit (which makes sense since it's a negative spring). I looked at the old/new springs together and noticed that the new spring was longer. I also noticed the black spring travel spacer…this got me thinking that I could lengthen/shorten this fork by adding/removing these spacers…oh fun for future"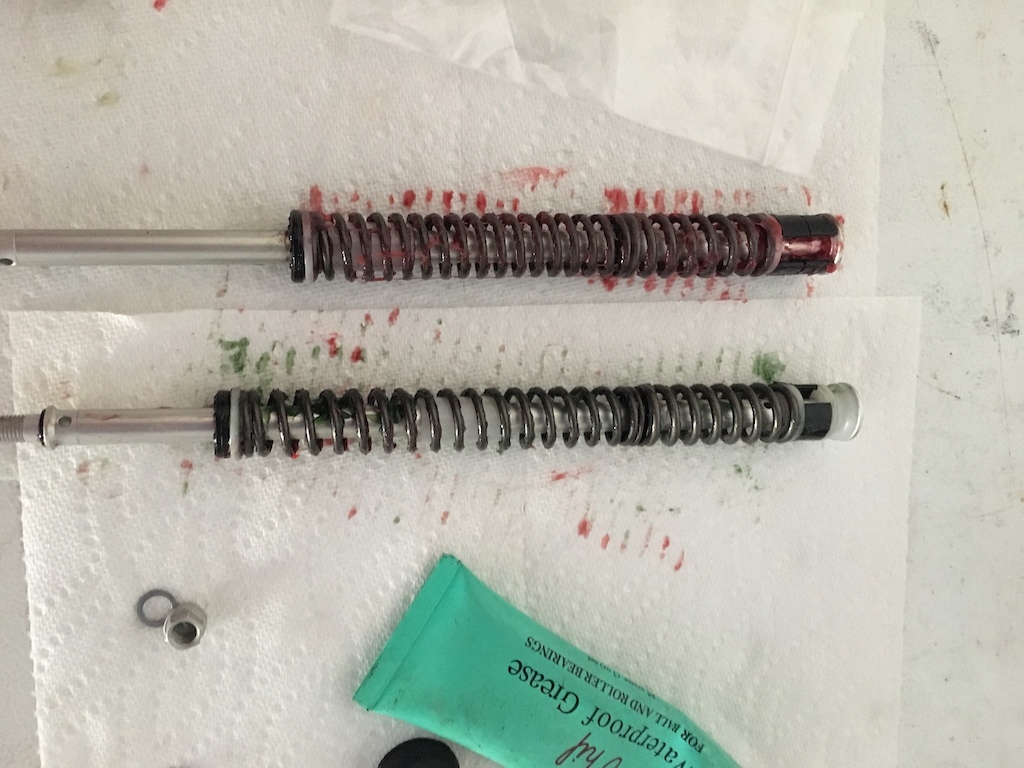 Taz: "That is a nice alternative. It saves having to buy alternate internals or heaven-forbid a new fork."
Gord: "So I followed the videos and pulled out the old spring and pushed the new one in. After tightening up the lock-nut, I put the lowers back on. I did notice that lowers had to be pushed almost the whole way through its travel to get the lower nut installed. Taz, have you seen this happen before with those other fork manufacturers that both rhyme with rox"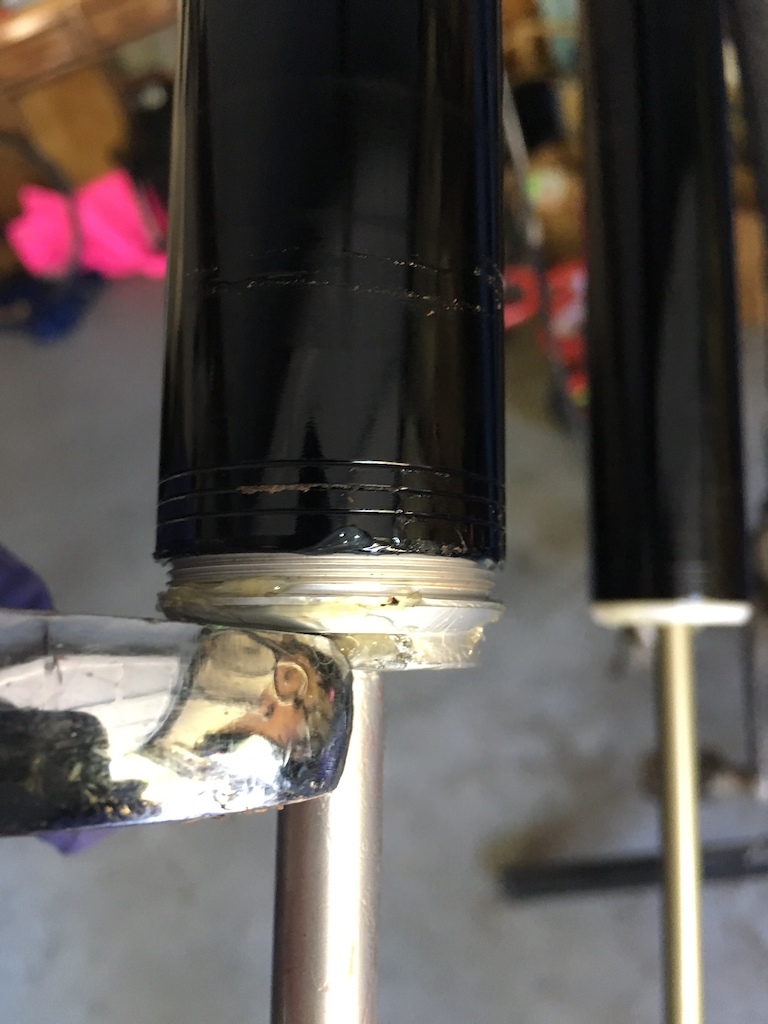 Crescent wrench to remove the old spring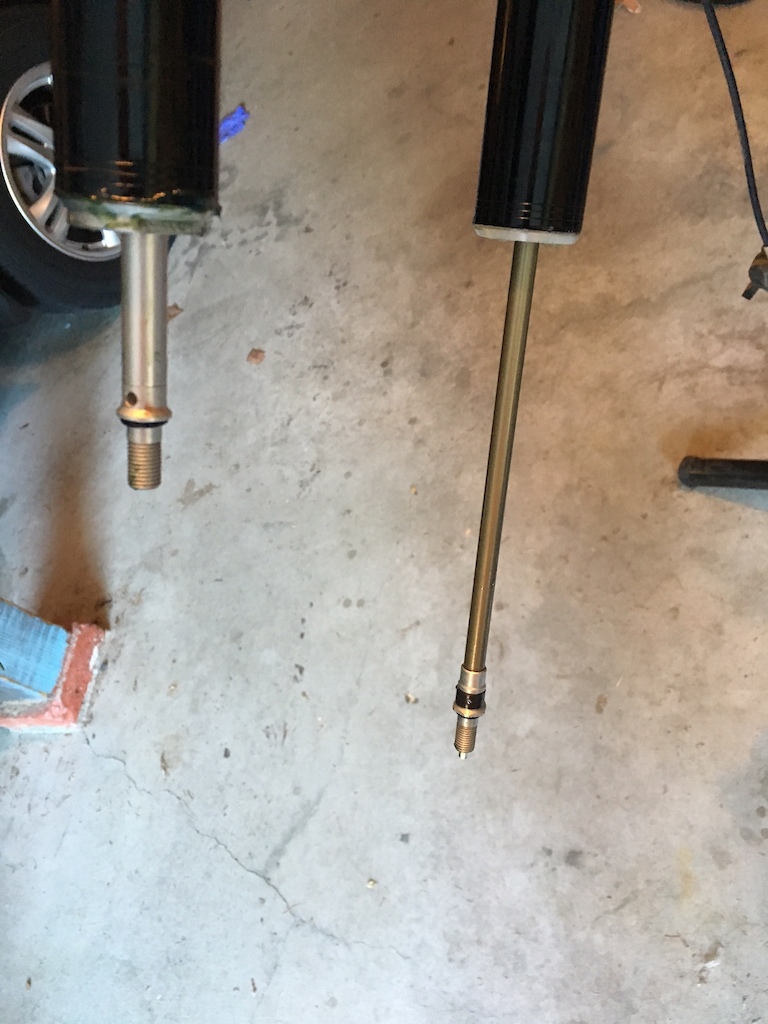 Length different
Compressed without air.
Taz: "No I haven't Gord, but as long as you get back to full travel once the fork is aired-up and you don't sacrifice travel, it should be fine."
Gord: "I agree, I have not yet had the chance to give it a trail-test, but at 110 psi (and 20% sag) it feels more supported than it did before as I bounced around my street."
Taz: "Wait a sec, you're telling me that you've been talking for the last 5 minutes and didn't even give it a trail test?!? Jeez Gord…"
Gord: "Now Taz, ease of maintenance is a very important part of this review. Things have been a bit nutty lately, and I'm out of town for 2 weeks, so a test will have to wait until after the all-star break"
Taz: "Ok, lets get back to the game. This broadcast has been brought to you by "John's VCR repair" – With the unreliability of the internet, Netflix is a thing of the past. VCR tapes are making a comeback – if you need your VCR player fixed, look no further than John's VCR repair located in a van down by the river…"