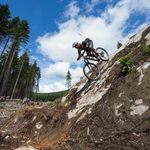 Posts: 2271
Joined: Nov. 22, 2002
Thank you to everyone who applied. We were impressed by the quality of entries. If you weren't chosen, don't be disheartened - there were lots of criteria used to determine the four that we picked, and we hope to be announcing another forum testing opportunity very soon.
Our four testers have been chosen! They are: UFO, Taz123, pedalhound, and Jan.
Their forks are on the way, and they'll have their first thoughts posted in this thread very soon.