fork air tokens or bottomless
Posts: 13
Joined: Aug. 15, 2010
any one local keep or sell bottomless tokens       in the lower mainland

Posts: 176
Joined: Feb. 24, 2017
Every shop worth their salt should have tokens. Have you asked your shop?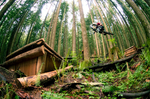 Posts: 1974
Joined: Jan. 5, 2010
Dunbar had a RockShox Monarch air Adapter Tool in stock last week when I rebuilt my shock and had no way to pump-up the piggy-back. 
Either it was dumb-luck, or they keep suspension parts stocked.
I'd give them a call first if they're near you.
Posts: 13
Joined: Aug. 15, 2010
got the most common response these days we can order them for you
Posts: 174
Joined: Feb. 13, 2016
For Fox stuff, Suspensionwerx in North Vancouver should have what you need.  Rockshox I'm not sure other than Fluid Function in Squamish.  What are you looking for?
On a side topic, if anyone has a compatible fork and an extra $200 US lying around, I highly recommend the Diaz Suspention Designs (DSD) Runt as an option instead of volume spacers.  More tuneable and potentially far more linear "coil like" feel than a standard, single positive air chamber setup.  I use to be an 'extreme spacer' guy, loading up my forks with the maximum number of spacers to try to get good small bump compliance without bottoming all the time.  However, the extreme ramp up at the end of the stroke was really harsh over repeated big hits.  With the Runt, the steeper and rougher the trail the better.  I reduced my initial pressure significantly so I still get good small bump compliance and still run a tiny bit more than DSD's recommended 1:2 pressure ratio for extra ramp up. 
Pro's of the DSD Runt:
- The more linear air spring gives more mid-stroke support, creating a more gradual ramp up at the end of the stroke for less harshness on repeated big hits (rock or root gardens) or when braking down steep and rough trails.
- You can still tune progressivity by adjusting the ratio of air pressure in your main air chamber versus the secondary.
- Results in a racier or more lively, active feeling ride (some will like this, others may not, although you can tune this out somewhat by reducing compression damping and increasing rebound damping a click or two compared to before you install the Runt).
Con's:
- Cost
- Complexity - may not be for people who don't like to fiddle
Posts: 926
Joined: June 26, 2012
Aside from options mentioned, I have had good luck finding suspension parts at Fanatik in Bellingham, if you are ever down that way. 
Otherwise, local-ish places to check are Dunbar, Suspensionwerx and Fluid Function.
Posts: 1573
Joined: July 11, 2014
Earlier this summer it was impossible to get current gen Fox 36 tokens and DPX2 kits were rare. I ended up finding them cheaper/faster on eBay from a UK seller.