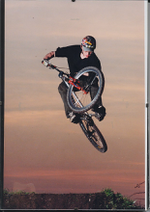 Posts: 1
Joined: Oct. 24, 2017
So, I spent about 2 weeks hunting the Web for a pair of five ten freerider eps in my size (well actually in a size larger as I have to size up, from uk10 to 11 in five tens...) and I get them (last pair at leisure lakes but that's irrelevant) and they don't fit! To narrow and to low tight across the end of the lacing.  Coincidently..... I wanted some of the Adidas shoes, but on trying them uk10 was to small (short and narrow), uk11's were to narrow and put my foot in the wrong place in the shoe as it seems to be so narrow and shaped along the foot. 
I have a pair of freerider contacts that are a few years old that fit fine.
Is it just because the eps have extra insulation making the space for the foot smaller, or are adidas making the five tens narrower now? 
PS also what happened to some of the funkier coloured elements? A choice of black or dark grey (with coloured stitching) is not a colour choice!
UK (Bristol) based rider, 1st bike was a BMX in '86ish which i abused and things gradually evolved to what I ride now (Intense Tracer & Stanton Slackline, both 26").