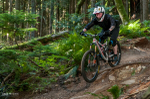 Posts: 2412
Joined: Sept. 5, 2012
I'm betting with the good help of the board here you could zero in on the perfect frame, but finding 29er wheels that will meet the light weight/heavy plow requirement might be tricky…?
IMO rims today can be built lighter and be strong enough too take abuse that rims years back would not do . My low 400 gram rims and 28h wheels take the same abuse my old DH wheel set did and they survive .
and Jokester that Prime is sweet looking all murdered out .