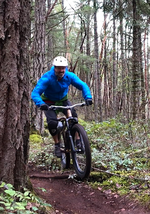 Posts: 44
Joined: July 29, 2013
I know there is a lot of variation when it come to seat angles and that for a long time long legged folks were essentially ignored in this regard by the industry. It seems that pendulum has firmly shifted and now shorter legged folks are having to deal with these new steeper angles.
Regardless of the angle number ultimately saddles are now arriving further ahead at your pedalling height than they used to. On a couple of example bikes I've measured (saddle nose to BB) the first "old-school" bike puts my saddle 40-45mm behind the BB the "new-school" bike puts my saddle 15mm behind the BB (with the same saddle).
It's been a couple years on the "new-school" bike now and I get the benefits on trail, the issues I describe below are almost non-existent on trail and I like the position when climbing steep terrain.
On door to trail rides that have a lot of flat pedalling I'm not finding a happy place with the "new school" bike. It requires an odd mid foot pedal position which seems to limit power and feels almost like I'm riding on my heels, but thats something I can deal with. The bigger issue is the feeling that I'm having to hold myself up constantly despite not really being that leaned over (or hinged at the hips) lots of hand pressure and wrist and elbow joint issues, its just uncomfortable. Whereas the "old-school" bike I can ride for hours on flat or steep terrain comfortably.
I'm hoping I can get some feedback from other folks that share similar issues and any tips on what if anything they have been able to do to increase comfort on flat riding that did not severely impact on trail performance. For exmaple I know some folks have raised bar height significantly but I struggle with those hump ups on climbs because I can't get "over the bars"...
What are you doing?
Thanks!
Last edited by:
geraldooka
on May 31, 2022, 2:33 p.m., edited 10 times in total.