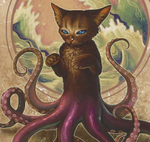 Posts: 1350
Joined: Nov. 8, 2003
Actually, after running a 35 carbon bar for a few weeks I'm surprised to say that my hand pain issue is totally gone.
35mm is a shit show, but if you're having pain from say the stock aluminum 35 bar that came on your bike and don't want to swap out to a 31.8 stem and bar, a 35mm carbon bar might be the secret magical rainbow unicorn you never knew you needed.
Last edited by:
Hepcat
on Jan. 22, 2020, 9:29 a.m., edited 1 time in total.