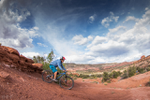 Posts: 27
Joined: June 7, 2017
Posted by: D-Type

Posted by: ReductiMat

The only think I don't do on my bike are shocks and fork cartridges.

Hubs are easy peasey, however if the free hub uses tiny springs prepare to hate life (I'm looking at you i9).  Work on a clean floor.

A lesson I learned last year was to not gauge hub bearing happiness by the ones you have easy access to check.  All but one of the ones I'm running (front an rear) are awesome after ~250 park days, but one in the free hub had half the balls remaining... I had thought it was cassette/chain/derailleur related until I had replaced all those.

I agree about the i9 springs! The little ramps that Hope uses are much easier to work with.
I lost one of my i9 springs...I might just go to a hardware store and see if they have something close enough. 
Luckily I swapped over to the steel freehub and got the entire assembly.