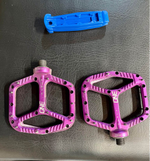 Posts: 84
Joined: Oct. 10, 2017
I think the adage of "You get what you pay for" is true in the world of custom wheels for bikes. Assuming that you have a competent wheel builder, which would you invest your hard earned $ into.
Are you spending it on Hubs? Does that high dollar hub make you a better rider? or does it make you the envy of others?
EG: DT350 vs Chris King/i9
or
Are you more about the rim? Brand Cache or unbranded cache?
EG: DTxm481/ex511 vs RF Arc
For me Im more about spending $ on the rim, as riding out of round wheels/tires makes me want to throw my bike off a cliff.
Last edited by:
ehfour
on Oct. 2, 2020, 9:27 a.m., edited 1 time in total.