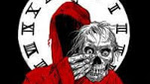 Posts: 2219
Joined: May 23, 2006
Only when power to the left crank arm.
Swapped out pedals and saddle no change. Checked bb cups, seat post clamp, cr lock ring.
Greased pivot that was culprit last time but don't think it's pivot/bearing issue 'cause I can bounce up and down while coasting and no creak.
Can interface between left (RF) crank arm and spindle get skanky? Reverb (?) 'cause that got rebuild recently.
"I really have had enough of illogical detraction by association as a way of avoiding logical argument by an absurd extension of ad hominem argument to third parties."