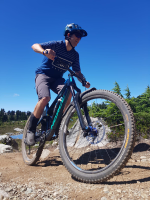 Posts: 53
Joined: Sept. 14, 2008
You failed to mention what compound you used for the other tires as that definately has an effect on tire wear.
Fair enough.
Maxxis 3C or Super Tacky, doesn't really make much difference to overall wear, just the ST are less likely to suddenly lose entire knobs during that final 2-3 days when one is trying to get the most out of the tyre but knows that it really should be replaced.
Schwalbe Vertstar: as grippy as Black chilli but rolls slower and wears way faster, slightly grippier than 3C but maybe it is just the difference in tread patterns (Schwalbe to Maxxis).
Schwalbe Trailstar: not as grippy as Black chilli still rolls slower (especially Hans Dampf) and still wears faster.
A Magic Mary made out of Black chilli rubber with their Enduro weight case (or the new Procore) might be the ultimate tyre for all round but as it doesn't exist I am more than happy with the Trail Kings.
Everyday on a bicycle is a good day!!