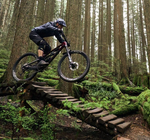 Posts: 760
Joined: June 17, 2016
We are starting to look for a city e-bike (pedal assist) for my partner. FWIW she has a medical condition which is impacting her mobility and independence. The goal is for her to be able to ride around town for errands etc.
Zero experience with e-bikes and not sure where to start and what to look for. Currently our parameters are:
Upright sitting position per physio recommendation

Low step through for easy getting on/off

Some cargo capacity (rack and/or basket)

Battery must come off for charging away from the bike

At least a few gears

No need to go fast

Reasonable expectation of durability and continued support (like replacement battery X years down the road)

Easy to work on for basic maintenance on drivetrain, brakes, etc.

Ideally something that local (Comox/Courtenay) shops would be happy to work on for more complex issues (e.g. motor/electrical)
She's previously had her eye on Rad Bikes but I don't think they have any local shops/dealers. How big of an issue would that be?
Anything similar to, say, the RadCity Step-Thru that anyone can recommend?
Looking for practical e-bike buying tips from actual e-bike owners, what to look out for, what to avoid? Any specific motors or batteries with significant issues?
Thanks!
Last edited by:
niels@nsmb.com
on Oct. 10, 2023, 12:13 p.m., edited 6 times in total.
Reason:
added location (relevant for local support)