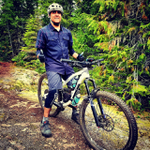 Posts: 694
Joined: Sept. 10, 2012
Sorry not gear related, but it seemed like a techy topic and I didn't see a better sub-forum to post in.
My home insurance used to cover our bikes up to $250K along with the contents of the house with no limitations. That was great because I own bikes, sports/camping gear and some nice computers....thieves can have the rest of my junk. Anyways last year they put a limit on bike coverage to $5K per bike. Not ideal as I own a number of bikes that would have replacement value over $5K, but I figured if thieves cleared my garage out of 5 sweet bikes and I got $25K I'd replace 4 of them and that would be fine. This year they dropped bike coverage to $1.5K per bike which is a joke.
So I need new insurance.
If you have at least $5K coverage per bike on your home insurance can you post up who you use as your broker and insurance company? Feel free to PM me if you want that to stay private.
Thanks!
BTW - I need coverage for ~10 bikes between my GF and I. So policies where you have to pay extra to cover each bike don't work due to cost.
Last edited by:
Vikb
on June 15, 2020, 7:37 a.m., edited 1 time in total.