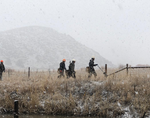 Posts: 31
Joined: Nov. 15, 2020
Panic bought another set of the trail boss/vigilante combo that I've been loving for the past couple months. Even the fast rolling rear is wearing out quick. I maybe should have bought two trail bosses, but could only find the light casing and wanted tough. Hope it holds up. I do have a random bin of tires I didn't like but that have some life left. Hopefully it doesn't come to that. 
Also bought another couple chains (helps to be on 11 speed) and a new GX 170mm crank to gain a touch of clearance. That one was only in stock one place that I could find. 175s are plentiful though.
Oh and the article on alternative brake pads was pretty timely. I have a set of MTX pads on the way. Had to go with Organics last time...
I think that means I'm pretty stocked up now, but I'm sure there's something I'm forgetting, or a part will brake that I don't expect.