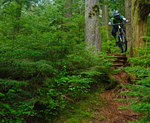 Posts: 45
Joined: Aug. 1, 2019
I've just built up a new bike - went from 27 to 29er. I was immensely happy with the Sram X01 11 speed drivetrain I had on my old bike, and after hearing not-so-great things about 12 speed transmissions (from both of the big S's), I decided to save a bunch of bucks by building up a similar NOS drivetrain for the new 29er. I knew that I should be gearing down a bit going to 29er, but was a bit hamstrung by available stock. Not surprisingly, my 30t front paired with 10-42 out back is a bit beastly for steep climbing duties on a heavy brawler 29er. Also, I'm weak.
I'm wanting to stick with 11 speed, so I'm looking for options on the cassette. My bike currently has an XD driver, so that somewhat limits options (however, I'm not against switching to a different driver if it gives me a good solution that is still SRAM derailleur compatible). I would also like to avoid changing the front ring. I think my best bet might be the ethirteen TRS Plus 11 speed (9-46). I don't necessarily need the 9t top gear, but whatever.
I see that Garbaruk makes some options, but a bit spendy for me. I also noticed that SunRace makes several options - including an XD compatible 10-46, but it seems that cassette might be hard to find (maybe discontinued?).
Does anyone have any experience with any of these options? Or any other directions I might go - barring "Suck it up and just buy an Eagle drivetrain already"?