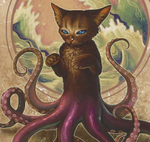 Posts: 1350
Joined: Nov. 8, 2003
Posted by: RAHrider

I think you all missed the point of this thread. It was to talk about how modern saddles suck in comparison to my 1990 Ti Flite. Not sure how we got so far off topic.... ;)

JK of course.

Butt seriously. The flite saddle. This thing is so beautiful

This just doesn't compare....
After 2 months on the saddle that technology built, I think RAH has a point. The SQ feels very inorganic, and while the sit bone points are covered and there's nothing particularly wrong about it besides the lack of padding and the hole in my shorts that the scooped out rear profile made, it just doesn't feel natural.
I was looking at my WTB Volt and Chromag Trailmaster and missing the soft rounded over tail with no edges to catch on and the thick soft padding overall and thinking "this is what a saddle should look like".
Upside of purchasing the SQlab was that it made me realize the importance of measuring sit bone width. Mine are a 130mm horse-ass width, which translates to a 150mm saddle. I've been riding saddles 1cm too narrow all this time.
Next saddle when this one wears out will be wide and as organic as possible. Deva looks the part.